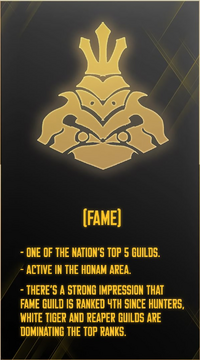 Fame Guild (명성 길드, Myungsung Gildu) is one of the top-5 Korean guilds. The guild's area is in Honam region and is in charge of the provinces with the Knights Guild.
Overview
The Guild Master is Ma Dong-Wook, an class S tanker. Ma Dong-Wook tried to woo Jin-Woo in his guild since their guild was filled with fighters but he was ignored/rejected.
Notable Members
Fame Guild

POSITION
NAME
RANK
CLASS
STATUS
Guild Master
Ma Dong-Wook
S-Rank
Fighter/Tank

Alive
Community content is available under
CC-BY-SA
unless otherwise noted.